MCR 3D Seismic Surveys Available for Australia's 2019 Acreage Release: NEWS RELEASE 1st August 2019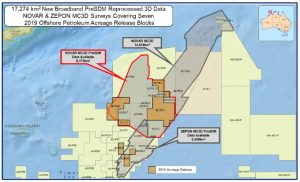 MCR is pleased to announce the availability of two new Broadband 3D PreSDM Reprocessed seismic surveys covering seven highly prospective 2019 Acreage Release blocks on offer within the Vulcan Sub-Basin.
The North Vulcan Advanced 3D Reprocessing project (NOVAR MC3D), incorporating ten legacy 3D surveys will, for the first time, provide the industry with a superior quality seamless 3D dataset processed through an extensive de-ghosted, de-multiple, anisotropic PreSDM sequence. The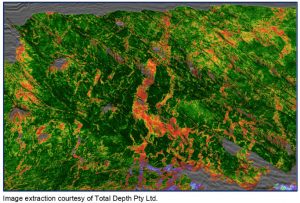 continuous 14,816 km2 3D dataset extends across the basin margins of the northern Vulcan Sub-Basin and north east to the Nancar Trough and Laminaria High. The survey covers high impact exploration and field development acreage including five 2019 Acreage Release permits (AC/19-1, 2, 3, 4 & 5), Orchid-1 commercial gas/condensate discovery, Cash / Maple field development, Jabiru / Challis shut in fields and surrounding prospective acreage.
The NOVAR MC3D has significantly improved imaging of the deeper Jurassic & Triassic structural & stratigraphic objectives and will allow E&P companies to undertake a more extensive evaluation of the petroleum potential and complex fault-seal risks in the basin.
Molyneux Advisors, in collaboration with MCR, has undertaken a regional seismic interpretation study of the NOVAR survey to accelerate E&P companies evaluations and is available for license with the NOVAR seismic data.
The ZEPON 3D PreSDM Reprocessed survey incorporating the Onnia & Zeppelin legacy 3D surveys provides a consistent 2,450 km2 enhanced 3D imaging over 2019 Acreage Release permits AC/19-7 & 8. The survey covers the Montara field to the south west and adjoins the NOVAR MC3D to the north east.