MCR NOVAR MC3D: NEWS RELEASE 11th MARCH 2019
Multi-Client Resources (MCR), a dynamic new Australian multiclient company, in collaboration with DownUnder GeoSolutions (DUG), has commenced a very large advanced 3D seismic reprocessing project in the Vulcan Sub-Basin, North West Shelf, Australia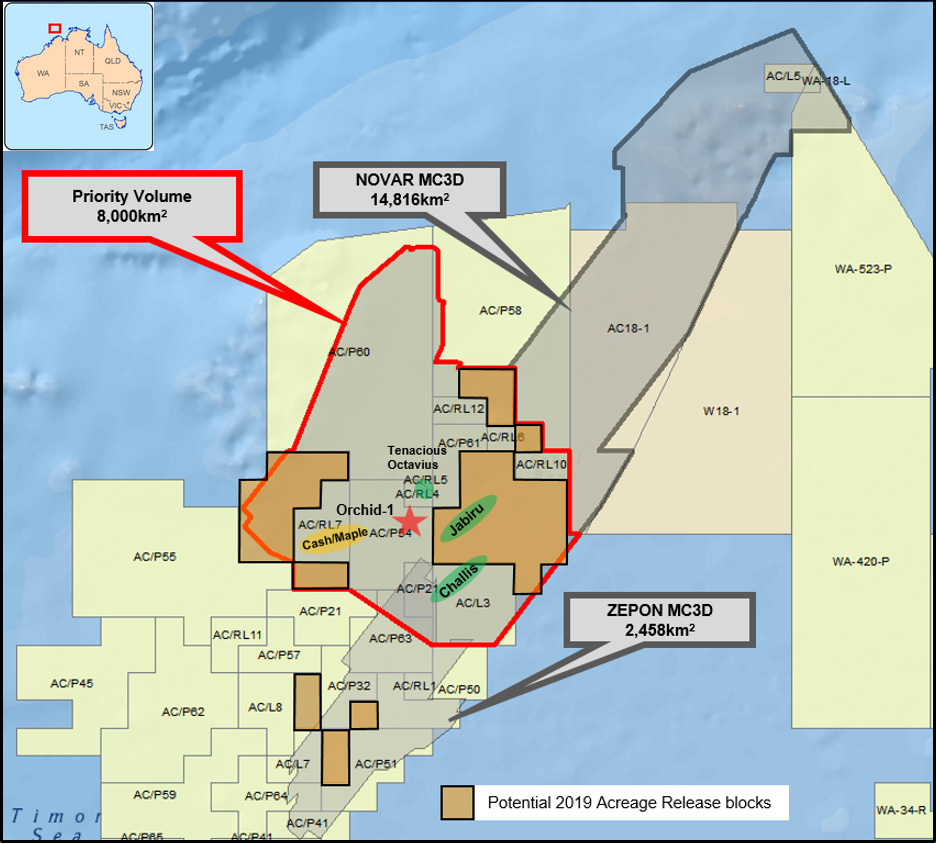 The North Vulcan Advanced 3D Reprocessing project (NOVAR MC3D), incorporating eight legacy 3D surveys, will for the first time provide the industry with a contiguous 14,800km
2
3D dataset processed through an advanced de-ghosted, de-multiple, anisotropic PreSDM sequence.
The NOVAR MC3D data will improve imaging of the deeper Jurassic & Triassic structural & stratigraphic objectives and allow E&P companies to undertake a more extensive evaluation of the petroleum potential and complex fault-seal risks in the basin.
Phase 1 fast track data covering 8,000km2 will be available at the opening of the Australian 2019 Acreage Release. It covers high impact exploration and field development acreage including:
NOPTA announced potential 2019 Acreage Release blocks
Orchid-1 commercial gas/condensate discovery (34m net pay, Plover Fm.)
Cash/Maple field (3.5 TCF) development
Jabiru & Challis shut in fields and surrounding prospective acreage
Phase 2 totaling 5,600km2 extends northeast across the Nancar Trough, covers the AC18-1 acreage release block and includes the Laminaria-Corallina and Buffalo oil fields.